Image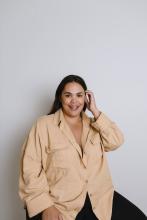 Allira Potter
Life Coach, Author and Wellness Practitioner
Allira Potter is a proud Yorta Yorta woman, a trained reiki practitioner, intuitive reader, energy healer, life coach and meditation guide.
Meet Allira
Allira's practice is fully immersed around culture, cultural awareness, and education, with a focus on debunking the wellness narrative to ensure diverse representation and decolonisation of a white-dominated wellness space.
Allira's practice advocates for cultural diversity, body positivity, and mental wellbeing, utilising her platform to create conscious content that is both engaging and educational for her followers. Her socially broadcasted messaging empowers women to embrace their bodies, curves & all, and to love themselves for who they are. Allira is beginning to make her mark on the social media landscape and has recently worked with both international and national clients including The Body Shop, Kathmandu, Instagram, Libra, Cotton On, Schwarzkopf, LuluLemon, MECCA, Bioderma, Kmart, Spell, Wella, Target, Bumble and many more.
As Allira's practitioner client bookings continue to escalate, so have her life-coaching and presenting skills. She has secured numerous speaking roles including for the likes of Instagram, AFLW, Keep It Cleaner, TAC, AllBright, Deakin Residential, Bethany Community Support, Business Chicks, and Koorie Women Means Business. As a role model to young Indigenous women, Allira's inspirational story has been shared by high-profile media publications including Elle Australia, Shameless, The Grace Tales, POPSUGAR, and Mamamia, along with feature interviews for Vogue Australia, The Urban List, and SBS.
In February 2022, Allira released her first book 'Wild & Witchy' - a handbook for millennials about life, loss, spirituality and women's intuition
While her career is thriving, Allira will always place importance on being true to herself and her connection to the roots of her Indigenous culture. Allira's connection with her culture, and learnings from her Elders, has led her to ensure that her business model will always put First Nations people first. Allira has dedicated her time to creating a private group where she offers all of services free of charge based on donations from allies and she strives to support and showcase Indigenous brands and businesses.
Allira is available for ambassador roles, social partnerships, speaking opportunities and event appearances.
She currently lives on Wadawurrung Country (Geelong), Australia.
What does Racism. It Stops With Me mean to Allira?
Allira got involves with the campaign because she felt it was important to bring attention to the continued presence of racism in Australia. She hopes that audiences are open minded, willing to learn and become meaningful allies.