Image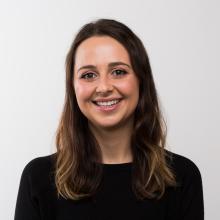 Ashleigh Streeter-Jones
Advocate and Entrepreneur
Ashleigh Streeter-Jones is a gender equality activist and advocate who believes passionately in amplifying the voices of diverse communities.
Meet Ashleigh
Described by Forbes Magazine as a "youthful visionary", Ashleigh Streeter-Jones has worked in youth advocacy and campaigns since she was a teenager. Ashleigh has been recognised by the Foundation of Young Australians as one of the Young Social Pioneers, was named the youngest ever Australian Capital Territory Woman of the Year and on the Forbes 30 Under 30 list in 2018. She is the former Vice-President of YWCA Canberra and previously co-founded Jasiri Australia's Girls Takeover Parliament in 2017.
Ashleigh has advocated for youth and gender equality on an international level, including at the Commission on the Status of Women at the United Nations. In 2019, she was recognized as one of Australian Financial Review's 100 Women of Influence and in 2021, she was selected as one of 50 young global leaders to attend Davos at the World Economic Forum, and by Young Australians in International Affairs as a Woman to Watch in International Affairs. She is the incoming Deputy Curator of the Melbourne Global Shapers Hub, a member of Apolitical's New Voices Council, and a member of the Griffith University EveryWhen Steering Committee, looking at creating better intergenerational justice.
In 2020, Ashleigh launched Raise Our Voice Australia, a social enterprise to boost the presence of young female and non-binary voices in public decision making. Raise Our Voice Australia has already graduated 74 young women and gender diverse people from its programs, collected 603 speeches to the inaugural Raise Our Voice in Parliament campaign, and has published research on young people and politics.
Ashleigh is recognised as an international thought leader on the importance of young people in the public sector, and has presented on the topic to both domestic and global organisations including the World Economic Forum and World YMCA.
What does Racism. It Stops With Me mean to Ashleigh?
Ashleigh recognises that racism is a systemic issue. As those who benefit from the status quo, Ashleigh acknowledges that white Australians have a responsibility to challenge colonial systems of power and ensure that a better future is created.
Ashleigh is committed to learning, action and developing skills in allyship. She notes that allyship is not something that you are, but something you need to practice everyday, and that we should never stop learning.