Image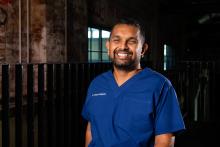 Dinesh Palipana
Doctor, Lawyer, Disability Rights Advocate
Dinesh Palipana is a doctor, lawyer, disability advocate, and researcher, and has previously been awarded an Order of Australia Medal (OAM).
Meet Dinesh
Dinesh was the first quadriplegic medical intern in Queensland and the second person to graduate medical school with quadriplegia in Australia. Halfway through medical school, he was involved in a motor vehicle accident that caused a cervical spinal cord injury. As a result of his injury and experiences, Dinesh has long been an advocate for inclusivity. He is a founding member of Doctors with Disabilities Australia. 
Dinesh has completed an Advanced Clerkship in Radiology at the Harvard University and currently works in the emergency department at the Gold Coast University Hospital. He is a senior lecturer at the Griffith University and adjunct research fellow at the Menzies Health Institute of Queensland. Dinesh is a researcher in spinal cord injury and a doctor for the Gold Coast Titans physical disability rugby team. He is a senior advisor to the Disability Royal Commission and an ambassador to the Human Rights Commission's Includeability program. In 2021, Dinesh was recognised as an International Day of People with Disability ambassador.
Throughout his career, Dinesh has been recognised through various awards and accolades, including the 2018 Gold Coast Hospital and Health Service's Junior Doctor of the Year, the 2019 Medal of the Order of Australia, the 2021 Griffith University Young Alumnus of the Year and the 2021 Queensland Australian of the year. Dinesh was the third Australian to be awarded a prestigious Henry Viscardi Achievement Award. His autobiography, 'Stronger' was released in 2022 by Pan MacMillan.
What does Racism. It Stops With Me mean to Dinesh?
Dinesh feels passionate about our shared humanity and the need to see the value in all people. The barriers he has faced throughout his life inspire Dinesh to call out bigotry and prejudice, and to advocate for the rights of all people to be realised and upheld. He feels that racism is toxic and calls on us to be courageous and take a stand against it.