Image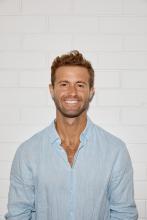 Hunter Johnson
Hunter Johnson is the Founder & CEO of two purpose-driven organisations.
Meet Hunter
Hunter Johnson is Founder and CEO of The Man Cave, an emotional intelligence charity that has impacted the lives of 30,000 young men across Australia.
Hunter is also the CEO of STUFF™, a men's personal care brand that champions healthy masculinity. He works as an Advisor to The Queen's Commonwealth Trust (QCT), a charity supporting young people throughout the Commonwealth alongside Prince Harry, the President of QCT.
Hunter's work has led him to speak around the world including presenting at the United Nations, Government House, Human Rights Commission, Sydney Opera House, Melbourne Town Hall, Graduation Ceremonies and various Universities. Hunter has been recognised as an Honouree for the Forbes 30 Under 30 Asia list, Finalist for the Young Australian of the Year Awards (VIC), named a Queen's Young Leader by Her Majesty The Queen.
What does 'Racism. It Stops With Me' mean to Hunter?
From a young age, Hunter's family encouraged him to use his time, skills and resources to work for a better world. For Hunter, Racism. It Stops With Me is about using his privilege and platform to advocate for a racial justice and equity. He hopes that the campaign can provide education about the ongoing individual, societal and systemic discrimination experienced by many in Australia, and agitate people into action. He acknowledges that education is the first step, but must be followed by action.