Image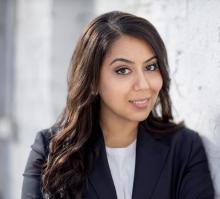 Mariam Veiszadeh
Lawyer, Author, Advocate and Social Commentator
Mariam Veiszadeh is an award-winning human rights champion, lawyer, diversity & inclusion practitioner, contributing author and social commentator.
Meet Mariam
In 2021, Mariam was appointed as CEO of Media Diversity Australia. She has also founded the Islamophobia Register Australia, and has held multiple board positions including formerly as Co-Chair of Australian Muslim Women's Centre for Human Rights and Our Watch. Mariam has worked as radio commentator for the ABC radio and as a columnist for Fairfax media. She was previously recognised as an anti-racism champion by the Australian Human Rights Commission.
Mariam's additional past and present roles include:
Afghan Australian Advocacy Network #ActionForAfghanistan Executive

Australian Human Rights Commission National Anti-Racism Framework Expert Advisory Group

Member of Human Rights Pillar UN Association of Australia (NSW Division)

Worldwide SHEroes Mentor

Australian Human Rights Commission Workplace Cultural Diversity Tool Expert Advisory Group

Welcoming Australia Advisory Committee Member

Diversity Council Australia Membership and Advocacy Director

Our Watch Board Director
With many accolades to her name including Fairfax Daily Life 2016 Woman of the year, Mariam is renowned for influencing positive change both in the workplace and in society more broadly. Her influence is felt in the many initiatives she promotes across her social media platforms, across which she collectively has over 50,000 + followers.
In 2017, Mariam addressed an audience of approximately 4000+ in her TEDx Sydney talk, shedding light on the issue of societal privilege and how it creates an unequal playing field for diverse minority groups. Through this presentation, Mariam successfully mounted the case for why cultural diversity targets are required to help create more of a meritocracy and stamp out racism and discrimination in the corporate sector.
She has been described as a woman who uses her "considerable wit and smarts to punch holes in the stupidity of racism, sexism and xenophobia in general" and someone who has "courage, tenacity and perseverance without the protection and resources afforded by public office."
As a fearless advocate, Mariam is accustomed to being both an advocate against and a victim of xenophobia.  In 2015, she made global headlines as she endured months of cyber-bullying for simply speaking out against bigotry. Australians responded by rallying behind Mariam using the hashtag #IstandwithMariam.
Mariam was born in Afghanistan and came to Australia in 1990 with her family as a refugee and has long been a vocal champion of the rights of asylum seekers and refugees. When Kabul fell in August last year, Mariam was at the forefront of advocating for Australia to increase its humanitarian intake.
What does Racism. It Stops With Me mean to Mariam?
For Mariam, anti-racism advocacy shouldn't just be for those who have skin in the game. She hopes that this campaign will encourage allies and those in positions of power to get comfortable with the uncomfortable conversations that need to be had about racism.
Her commitment to anti-racism advocacy came out of necessity, and she notes that so many people with lived experience of racism feel compelled to engage in anti-racism as they are heavily impacted by and invested in its elimination. This is a responsibility that should be shared by all.